Contact Toyota of Dallas for information about 2022 Toyota 86 pre-orders or with any other general inquiries.
Toyota Press Release
Track-tested, pro-driver approved, the all-new 2022 GR 86 earns a Gazoo Racing badge
Responsive and lightweight 2+2 sports coupe designed by enthusiasts, for enthusiasts
Increased rigidity, more power and torque, aerodynamic body elements, and new interior
2.4L flat-four boxer engine hits peak torque at lower RPMs, giving the feel of more linear acceleration
Complimentary one-year membership to the National Auto Sport Association (NASA), featuring a High Performance Driving Event with expert instruction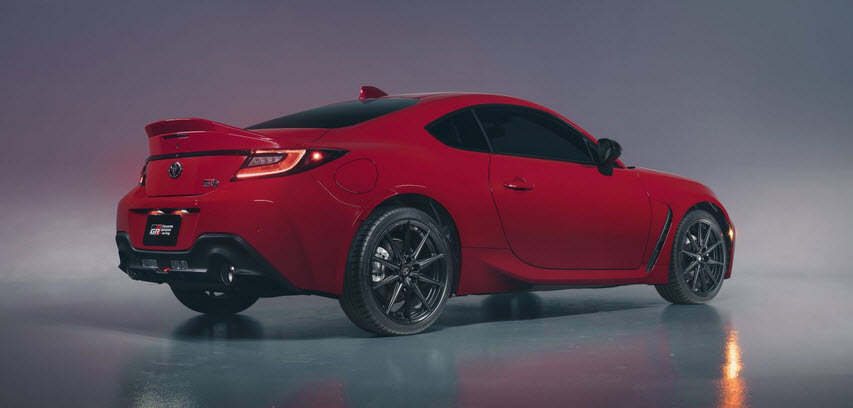 PLANO, Texas (June 2, 2021) - The car that marked the revival of Toyota's sportscar lineage will now give drivers even more of the agility, style and responsiveness they desire. For this round, the detail-obsessed Toyota Gazoo Racing team brings enhanced handling and exterior aerodynamics, increased power and an upgraded interior. These changes earn it a Gazoo Racing badge, joining Toyota's ever-growing, global sports car line as the all-new 2022 GR 86.
With its wide stance and low center of gravity, the 2+2 rear-wheel drive coupe's handling changes come in the form of front- and rear-frame reinforcements that increase rigidity. Functional exterior air vents were also added to further support steering stability. Weight shaving details, such as aluminum roof panels and fenders, also kept it at a nimble curb weight of just over 2,800 lbs.
The 2.4L naturally aspirated, horizontally opposed four-cylinder boxer engine, brings the power upgrade - increasing from 205 to 228 hp and from 156 to 184 lb.-ft. of torque on the manual version. The power boost comes from tweaks like increased bore size, changes to the intake and exhaust systems, and optimization of the Toyota D-4S dual injection technology. Drivers will have the choice of a 6-speed manual (MT) or automatic transmission (AT).
Zero to 60 times have dropped from 7 to 6.1 seconds for the MT and from 8 to 6.6 seconds for the AT.
Available in two grades, GR 86 and GR 86 Premium, it will come in seven exterior color choices, including the aptly named Track bRED. The premium grade comes equipped with a rear duckbill spoiler, adding dynamic contours to the car's sporty feel.
Stay tuned for more information from us as the new model's release date approaches!