About the Toyota Tacoma in Dallas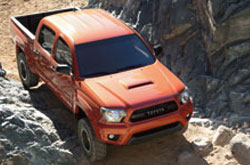 Noted for its solid durability and reliability, the Tacoma gives Dallas truck shoppers the utility of a truck without the need to "go big or stay home." Tacoma delivers real truck serviceability with its 6,500 pound towing capacity and 1,500 pound payload ability with the V6 engine option, yet it'll still fit easily in your garage. Choose your 2015 Toyota Tacoma in Dallas from among two cab configurations and two engines with manual or automatic transmissions along with an optional off-road package. Such variety, economy and utility makes the Tacoma a strong choice in its class. In their 2015 Toyota Tacoma Review, AutoTrader commented that the Tacoma "just might offer the best of all worlds."
The 2015 Tacoma is available in either an extended or crew cab, which Toyota refers to as Access Cab and Double Cab, respectively. Regular cabs are no longer available. With the Access Cab, you have the smaller, backward-opening doors which access jump seats suitable for kids, or fold them up and store cargo in the cab. The Tacoma Double cab has a four-door configuration and offers adult-sized rear seating which also folds to create a nice interior storage area. The Access Cab is paired with a 6'1" bed, while the Double Cab offers bed length choices of 5' or 6'1". Every new 2015 Toyota Tacoma in Dallas includes a composite inner bed with built-in storage and four rail-mounted sliding tie-down cleats to easily and effectively secure your cargo.
Toyota's 2015 Tacoma offers the choice of a 159-horsepower four-cylinder or 236-horsepower V6 engine, depending on your need for power or fuel economy. The inline-four manual achieves roughly twenty percent more miles per gallon than the manual V6 and delivers adequate power if you're not planning on doing much towing or carrying many heavy payloads. If you opt for an automatic transmission, gains in fuel economy aren't really enough to outweigh losing the added power you'll enjoy with the V6.
Before you move on to truck comparisons and the Tacoma features video tour below, we'd like to point out that off-road enthusiasts should check out the available TRD Pro package. In Edmunds' 2015 Toyota Tacoma review, they declare the TRD Pro package-equipped Tacoma to be "likely the most dirt-friendly pickup on the planet."