Toyota Dealer in Dallas Reviews the New Highlander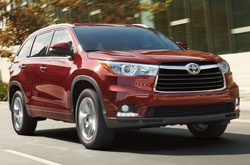 Texas families interested in a midsize SUV would do well to give strong consideration to a 2015 Toyota Highlander in Dallas. The consummate soccer-mom vehicle, Toyota Highlander has the cargo and passenger carrying power, comfort, convenience, economy and safety to do all those suburban errands it was named for, from taxiing kids and loading up recreational equipment to hauling home big purchases or doubling for parents' night out duty. Peruse our 2015 Toyota Highlander review for information on Highlander's notable features and functions.
Coming off a complete redesign last year, we're looking at a Highlander that is loaded with the latest features and still sporting a fresh makeover. You'll find the 2015 Toyota Highlander in Dallas offered in five variations: LE, LE Plus, XLE, Limited and Hybrid Limited. Except for the base LE and Hybrid Limited, all are offered with a V6 and six-speed automatic powertrain in FWD or AWD. The base LE comes standard with a 185-horsepower four cylinder but offers the V6 option. The Hybrid Limited utilizes a V6 plus a 650-volt motor and continuously variable transmission delivering 280 horsepower and increased fuel economy. The Hybrid Limited, however, is only offered in one fully-loaded trim package. Click any of the sample vehicles below to see official EPA mpg estimates specific to that package and powertrain.
The Highlander is an IIHS Safety Pick-Plus vehicle, so rest assured, you and your passengers are well protected in the event of a collision. In order to avoid that unpleasantness, however, you have the latest-and-greatest proactive, driver-assist safety systems offered on upper level trims. The Highlander can seat up to eight, so there's plenty of room to drive the kids, their friends and even a dog or two to the park for a little energy blow-off. If the kids aren't along, you can pack in more than 83 cubic feet worth of baggage, or bring the kids and still load up about 42 cubic feet worth of take-alongs behind the second row. If the neighbor kids pile in the third row, you can still let the dogs jump in the "well" as long as they don't take up more than 13.8 cubic feet of space. Those would be some pretty big dogs.
For quieter occasions, you'll enjoy a nice array of amenities, including Toyota's Entune connectivity kit and a host of power conveniences. Keep scrolling for more on this popular midsize SUV as our 2015 Toyota Highlander review continues with more specs, featured real-time inventory, and a video features tour.