Toyota of Dallas is enthusiastic to be the premier location for the Toyota Tundra in Texas. Toyota of Dallas is an Dallas Fort Worth Toyota dealership and carries a extensive inventory of New Toyota Tundra and top quality and high value Used Toyota Tundra and other cars & trucks.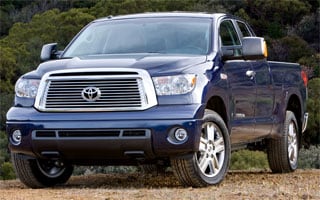 When shoppers compare the Toyota Tundra to other makes like the Chevrolet Silverado, Ford F-150, GMC Sierra, Dodge Ram , the 2012 Toyota Tundra shines as the most fun-to-drive. Starting with the 2010 Toyota Tundra, owners found this affordable Truck's crisp handling and lively acceleration to be reason enough to choose.
You'll love the Toyota Tundra, full size pickup truck, when you shop at Toyota of Dallas in Dallas Fort Worth
The 2012 Tundra is Toyota's superb new entry into the full-size pickup truck category. With a powerful V8 engine, the Tundra can handle any work payload, and do it with the reliability that the Toyota Tundra is known for. It's no wonder that Chevrolet Silverado, Ford F-150, GMC Sierra, Dodge Ram owners are switching to the ultra-versatile 2012 Toyota Tundra. Find one at Toyota of Dallas in Dallas Fort Worth, TX, and begin driving a new or used Toyota Tundra today!
In June of 1999, the Toyota Tundra roared onto the scene with the highest sale debut of any vehicle in Toyota's history. Over 8,000 units were sold in the first month alone, outselling the Toyota Tercel by over 3,000 units. The rugged Tundra continued to impress with its second generation, and featured a slew of engine power and towing improvements.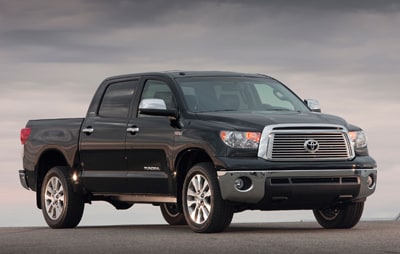 In 2009, Toyota introduced an E-85 Flex Fuel version as a standard option in its 5.7 liter V8 models. The E-85 model was an absolute hit for gas conscious truck owners across the U.S., and endeared the full size pickup truck in the minds of a nation. Check out a pre-owned Tundra at Toyota of Dallas, and ask about Tundra price and financing options that are right for you.
In 2012, the Tundra is available in 3 different body styles with a variety of features and specs. Toyota Tacoma reviews for the new factory year have been outstanding, so visit the finest dealer in Dallas Fort Worth, Toyota of Dallas, and drive away in a dependable Toyota Tundra with an MSRP as low as 23,935.
The Toyota Tundra Regular Cab features a variety of 4x2 and 4x4 options with engines from a 4.0 liter V6 to a powerful 5.7 liter V8. The 4x2 and 4x4 also offer long bed models for greater hauling room, and a 4x4 model with E-85 FFV.
The Tundra Regular Cab Exterior comes standard with color-keyed upper and chrome lower front bumper, chrome grille, and a chrome rear bumper. High Solar Energy-Absorbing glass will protect you from the harsh TX sun, and thanks to an easy lower and lift tailgate, loading and unloading cargo will no longer be a chore.
Interior standard features in the base Toyota Tundra 2012 at Toyota of Dallas include: dual zone climate control, a 4-speaker stereo system with AM/FM/CD/MP3 playback and auxiliary audio jack, 4-way adjustable driver and passenger seats, and durable rubber-type flooring.
Tundra's Double Cab expands the overall room and passenger capacity of the Tundra Regular Cab, while offering 4x2 and 4x4 4.0 liter V6, 4.6 liter V8, and 5.7 liter V8 engines. The Tundra Double Cab at Toyota of Dallas adds exterior and interior features like powered outside mirrors, variable intermittent windshield wipers, and an optional power sliding privacy glass rear window. The Double Cab offers some excellent amenities inside including cruise control, a front map lamp, power windows, locks, and doors, as well as a fold up rear seat.
The fully loaded Toyota Tundra CrewMax is the jewel of the Tundra body models. The 2012 Crew Max has many of the extras of the Regular Cab and the Double Cab body styles but adds: a color-keyed front bumper with chrome grille and matte silver billet-style inner grille, power sliding rear window with defogger and privacy glass, fog lamps, and chrome auto-dimming heated outer mirrors with folding capability.
Want a powerful engine in that new CrewMax? Choose from 4x2 and 4x4 options with the following: a 4.6 liter V8, a 5.7 liter V8, and a 5.7 liter V8 FFV. Stop by Toyota of Dallas to choose CrewMax options and extras.
For years, Toyota has been a leader in safety. All of our 2010 vehicles received four or five stars in front and side impact collisions in government crash tests, and we are dedicated to keeping our strong track record of safety intact for all of our 2012 models as well. The Toyota recall has reaffirmed our commitment to improving R&D activities to produce vehicles that will perform at the highest level of safety and ensure comfortable driving under various conditions. Toyota will continue to deliver the safest and best quality cars, trucks, and SUVs on the road today.
Toyota Tundra safety is of the upmost importance to Toyota of Dallas. That is why every 2012 Toyota Tundra comes standard with the Star Safety System ? Vehicle Stability Control, Traction Control, ABS, EBD, and Brake Assist. The Tundra also features Smart Stop Technology, driver and front passenger airbags, seat mounted driver and front passenger side airbags, and front and rear roll-sensing side curtain airbags, so you and your family can count on a safe trip ? wherever you go.
Here's the reasons why the Toyota Tundra ought to be your desired full size pickup truck in glamorous TX
Toyota of Dallas offers the Toyota Tundra a 4-door Truck which seats 6 people satisfactorily. The Tundra weighs 5,085 pounds, is 228.7 inches long, 79.9 inches wide, 75.8 inches high, and the Toyota Tundra's turning radius is 22 feet. surprisingly roomy for its class, the Tundra has 40.2 inches of headroom in the front, and 42.5 inches of legroom up front. In the Tundra's back seat, there are 38.7 inches of headroom and 34.7 inches of legroom. Need to bring a lot of luggage? The Tundra trunk holds up to pickup cubic feet of your cargo. So, spread out and enjoy!
Standard Toyota safety features included in the Tundra are traction control, anti-lock brakes, side airbags, driver airbags, side-impact bars, seat-belt pre-tensioners, passenger airbags. With all these features, the Toyota Tundra is always rated exceptionally by the IIHS and NHTSA.
The Tundra also has a raft of comfort and convenience features, including power steering, remote locks, power windows, power mirrors, climate control, cruise control, air conditioning, power seats, adjustable steering wheel, and more! Especially nice are available hands-free phone and navigation. Test drive the Toyota Tundra in Dallas Fort Worth at Toyota of Dallas.
Like all Toyota cars & trucks, road handling and performance are top priorities for the Tundra. Passing horsepower in the base Tundra is 270 hp @ 5600 rpm, and producing excellent torque 278 lb.ft. @ 4400 rpm foot pounds/rpm, the Tundra accelerates briskly from 0 to 60 mph in just 6.4 seconds. If you want to go that fast, the Tundra has a top speed of 120 miles per hour. Despite this excellent power train output, the Toyota Tundra's fuel economy is rated at 15 miles per gallon in the city and 20 highway miles per gallon. With a fuel tank capacity of 26.4 gallons, the Tundra cruising range is well above average. Truly a workhorse truck!
The Toyota manufacturer's warranty covers the Tundra for manufacturing defects and has these specifications 3 Years / 36,000 miles. Toyota has worked for years to minimize enviromental impact, and the Tundra's carbon footprint is rated very low. Not surprisingly, with all these Tundra advantages, this great Toyota Truck retains a high percentage of its value at 3 years and 36,000 miles, which makes the Toyota Tundra a great used buy!
Toyota Tundra service information for Dallas Fort Worth
Toyota Tundra owners and lessees in Dallas Fort Worth have found that Toyota of Dallas is the very best choice for Tundra warranty work, regular maintenance & inspections, and mechanical repairs. At Toyota of Dallas, Certified Toyota Technicians, trained in the very latest diagnostic and corrective techniques, work for one thing only, your complete satisfaction. Whether it's time for your Toyota to have an oil change, or tire rotation, or if you need a regular Tundra Scheduled Maintenance, Toyota of Dallas is your first choice. Wheel alignments are another specialty of our Certified Toyota Techs, we are the smartest choice in Dallas Fort Worth, for quick courteous and professional Toyota Service of all kinds.
If you'd like to make an appointment to have your Tundra serviced, click the link or just give us a call. See you soon.