Dallas Toyota Dealer Researches the New Prius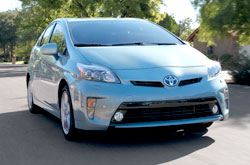 What's new with the Prius? Having the best selling hybrid car in America doesn't necessarily mean you can rest on your laurels. There's plenty of competition in the green car arena, but Prius is still king of the mpg hill. Prius also kills in the resale arena. Reason enough to choose a Prius, but for a little added interest, the manufacturer is launching a new special edition 2015 Toyota Prius in Dallas. The Prius Persona Series adds character to the Prius Three model in the form of dark-finish wheels and "dark chrome" accents that pick up new blue footwell lighting for fresh elegance inside. Extra dazzle outside is provided by the new Blizzard Pearl or Absolutely Red exterior colors. In other 2015 news, a rearview camera is now standard equipment across all five trims - Prius Two, Three, Persona Series, Four and Five. Our 2015 Toyota Prius review will focus on those, but don't forget the outlying models, the Prius v (larger wagon model), Prius c (the smallest and least expensive), and finally, the Prius Plug-in Hybrid.
Regardless of which Prius you choose, you can count on some truly phenomenal fuel economy. The ultimate commuter car, the Prius gets higher EPA estimated mpg rates for city than for highway. While other automakers have tried over the last half-dozen years to outdo Prius on fuel economy, none have succeeded. The Prius Hybrid Synergy Drive powertrain delivers 134 horsepower using a 1.8-liter four-cylinder gasoline engine paired with dual electric motor-generators. Utilizing regenerative braking and engine overrun to send both supplemental torque to the engine and recharge the battery - which can also power the Prius on its own at low speeds - this Toyota system is a true fuel miser.
You'll feel confident driving a 2015 Toyota Prius in Dallas since the Insurance Institute for Highway Safety awarded the Prius its highest honor, designating it as a Top Safety Pick-Plus last year. While you may not be the fastest off the line in a Prius, you will be able to pamper yourself with the latest in automotive connectivity and convenience amenities. Be sure to check out the video overview of Prius features and options at the end of our 2015 Toyota Prius review.