Toyota Dealership in Dallas Reviews the 2015 4Runner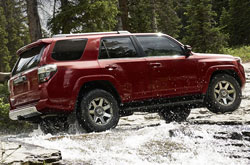 If you prefer the road less traveled; if your response to immovable objects is to roll right over them; if you like to forge ahead where others fear to tread; you might be a 4Runner owner. Or if you're not there yet, you might want to read our 2015 Toyota 4Runner review and see if the frontier spirit moves you. Anyone can yearn for the open road, but if you yearn to leave the road, the 4Runner is the real deal. Imagine sliding behind the wheel of your 2015 Toyota 4Runner in Dallas and heading straight out of town, because this rough and tumble SUV is most at home where the pavement ends.
Unlike erstwhile rivals who left behind their truck-based roots and adapted to the highway, like the Ford Explorer or Nissan Pathfinder, who kept their adventurer's names but eschewed the guts to go with them, the Toyota 4Runner refuses to bow to the latest unibody trends. 4Runner remains one of the few midsize SUVs available with traditional body-on-frame truck-based toughness. What 4Runner did adopt, is newer traction-enhancing capabilities like 4-wheel active track control and crawl control. An automated crawl mode with partial sway-bar disengagement paired with a kinetic dynamic suspension system will allow you and your 4Runner to progress doggedly over terrain no unibody SUV would dare venture to cross.
The 2015 4Runner will take you on adventures that require packing along a lot of supplies, so it provides you with 10% more cargo room than Explorer or Pathfinder. And while Jeep Grand Cherokee may get you there, you'll get there with about 25% less space for supplies, so hope you don't plan on being gone too long.
When you shop a base model 2015 Toyota 4Runner in Dallas, it admittedly is not crowded with unnecessary amenities, but it has what you need in modern technology: an interactive connectivity system with traffic and weather info to help plan your adventure; and practical oversized knobs and big button controls for onboard systems suitable for use when riding over rough terrain. Once at your destination, an available 120-volt household power outlet and a cargo deck that supports more than 400 pounds offer up the ultimate wilderness tailgate party.
Learn more about available features as our 2015 Toyota 4Runner review continues. Or if you're ready for bold adventure that can't be had in car-based SUVs, drop by Toyota of Dallas and experience the 4Runner from the driver's seat.