Read about 2014 Avalon for the Dallas area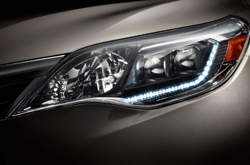 Touted by US News and World Report as one of the most upscale cars in its class, the 2014 Toyota Avalon offers premium comfort and performance to Dallas car shoppers. The sleek, contemporary and urbane Avalon is loaded with luxury features, and we'll talk a little about some of them in this 2014 Avalon review, but we also want to point out the advantages of a reliable, durable and well performing Toyota powertrain and the peace of mind afforded by advanced safety features when traveling in and around Dallas.
The new 2014 Toyota Avalon gives Dallas drivers the ability to have their cake and eat it too! Looks, power and efficiency create a winning combination. Let's talk 3.5-liter V6 engine delivering 268 horsepower and 248 pound-feet of torque. With that much power, you may be surprised to learn the EPA-estimated fuel efficiency ratings are 21/31 mpg-city/highway while maintaining certification as an ultra low emission vehicle (ULEV). That's pretty good. If want it to be easy being green, let's talk Avalon Hybrid's 2.5-liter 4-cylinder dual overhead cam engine's dual variable valve timing with intelligence, complete with ECO and Sport modes and utilizing an electronically controlled continuously variable transmission. Avalon Hybrid's EPA estimated efficiencies run 40/39 mpg city/highway. With Avalon Hybrid system's net power output of 200 horsepower, you won't sacrifice much in the way of performance to become satisfyingly green!
Avalon is historically reliable and durable and has earned Kelly Blue Book's Best Resale Value Award. Safety has also remained a top focus for the new 2014 Avalon. Toyota includes standard safety features such as traction control, anti-lock brakes and brake-assist in addition to a ten airbag array. Other available safety features include a blind spot monitor and dynamic radar cruise control.
Our 2014 Toyota Avalon review for Dallas continues below a selection of Avalons for sale in Dallas, complete with an independent car comparison tool to instantly compare Toyota Avalon with other full sized sedans.