Read about 2013 4Runner for the Dallas area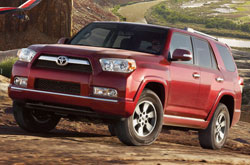 Toyota of Dallas is a trusted resource for reviews of the 2013 Toyota 4Runner - scroll down below the video to begin reading. The Toyota 4Runner reviews are written by experienced vehicle authors. It is just one of many resources we provide as the leading Toyota dealer in Dallas. As you read this article, you'll see that it is full to the hilt with usable material on all of the things you'r looking for in the new 4Runner. Read on to see if the 4Runner is right for your garage.
View a Walk-around Video of the 2013 Toyota 4Runner
Compare the Toyota 4Runner's Specs & Features
Comparing the 2013 Toyota 4Runner alongside against vehicles like the 2013 Chevrolet Traverse, Nissan Pathfinder, Jeep Grand Cherokee, Dodge Durango, Honda Pilot and the Hyundai Veracruz, and you will find that the 2013 4Runner beats out the competition in quite a few areas. Look over our bullets to see why!
2013 Toyota 4Runner Colors: Megnetic Grey, Black, Salsa Red, etc...
2013 Toyota 4Runner MSRP: $31,340
2013 Toyota 4Runner Cargo Space: 46.3 cubic feet
2013 Toyota 4Runner Seats: 5 passengers
2013 Toyota 4Runner 0-60 MPH in 6.8 seconds
2013 Toyota 4Runner MPG: 17 city / 22 highway
2013 Toyota 4Runner Body Style(s): SUV
Trims & Features on the New 2013 Toyota 4Runner
Toyota 4Runner Service Info for Dallas, TX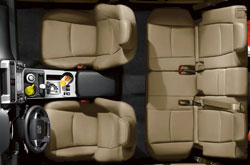 You won't get Toyota trained service techs, a 12-month long warranty on service and bona fide Toyota parts at a mom and pop auto facility in Dallas, so visit Toyota of Dallas instead. Toyotas in Dallas can take a triumphing, so turn to the auto repair gurus in Dallas - Toyota of Dallas. From labor intensive undertakings like electronics repair to less trying jobs like air filter replacement and simple routine multi-point inspections, our Toyota repair crew do it all. Toyota of Dallas is your superior choice in Dallas for quick, professional Toyota service and regularly scheduled maintenance. Check out the link below to see how much money you can save on your next service appointment.