Toyota of Dallas is a premier dealership for those in need of brake service in Texas. Whether you require brake inspection or brake repair, our team of highly trained technicians has what it takes to tackle the job. 
We understand the importance of keeping your car's brakes in exceptional condition, which is why we encourage Dallas Toyota owners to always have their cars evaluated during recommended service intervals. Just take a look at your owner's manual to discover your manufacturer's maintenance service scheduler. If you're certain your car is in need of brake service in Dallas, schedule an appointment with our service team today to have it taken care of.
General Brake Repair Services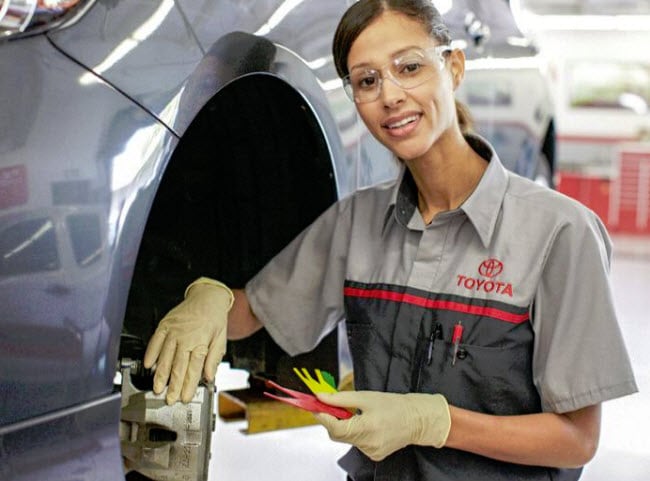 Several components make up your brakes and help keep you safe on the road. If these components are not taken care of over time, they will begin to experience wear and leave you in need of replacements. 
In most cases, your Toyota's brake pads will be the first to wear down, requiring you to receive a brake pad replacement. Brake calipers, brake fluid and brake rotors will also need to eventually be replaced as your car ages in order to keep your brakes in excellent condition.
Each of these services and more are available at our Toyota of Dallas service center.
Warning Signs You Need Brake Repair
Here are the top warning signs your car is in need of immediate brake service in Dallas:
It jerks when you apply your brakes
It takes a long to time to come to a stop
A grinding our squealing noise occurs when braking
Your ABS brake light is illuminated on your dash
Does your car experience any of these warning signs? If so, contact us today to have your car looked at by a professional. We have the skills and equipment needed to get your car back up and running in no time.