Toyota of Dallas is thrilled to be the premier supplier for the Toyota Prius in TX. Toyota of Dallas is an Dallas Toyota dealership and carries a full inventory of New Toyota Prius and top quality and high value Used Toyota Prius and other cars & trucks.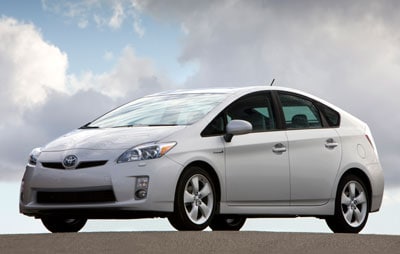 When shoppers compare the Toyota Prius to other makes like the Ford Fusion Hybrid, Chevy Volt , the 2011 Toyota Prius shines as the most fun-to-drive. Starting with the 2011 Toyota Prius, owners found this affordable Sedan's crisp handling and lively acceleration to be reason enough to choose.
You'll like the Toyota Prius, hybrid sedan, when you shop Toyota of Dallas in Dallas
Mention a pioneering hybrid car, and one can't help but talk about the environmentally friendly Toyota Prius. Toyota Prius reviews raved about this ultra low emissions vehicle and the Prius's hybrid engine innovations. Prius Gas milage has reached a legendary milestone in gasoline saving technology. The Ford Fusion Hybrid, Chevy Volt fall short of the 2011 Toyota Prius when it comes to Prius mpg savings and environmental intelligence. The 2011 Prius, available at [Dealership Name] in Dallas, TX has a brief but rich history in shaping the future of the electric-gas hybrid car.
It all began in 1997 as the Toyota Prius went on sale in Japan as the very first mass-produced hybrid vehicle. Before arriving in the United States in August 2000, the 2001 model year Prius was offered to dealerships like Toyota of Dallas and via the Internet as a single-spec trim level vehicle. The Prius featured AC, power door locks and windows, ABS and other amenities. It featured the Toyota Hybrid System powered by an all-aluminum, 1.5-liter VVT gasoline engine with 70 horsepower at 4,500 rpm and a 25-kilowatt battery pack producing 34 horsepower. The Prius is a full hybrid, meaning it can operate in the gas or electric mode, or both. Another Prius innovation is a regenerative braking system, which charges the battery with kinetic energy generated during deceleration and braking so there is no need to charge it like an all-electric vehicle.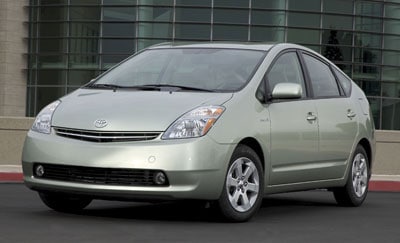 The first-generation Prius was a certified Super Ultra Low Emissions Vehicle with an EPA estimated fuel economy rating of 52 miles per gallon in the city and 45 miles per gallon on the highway. Its technical advances and low emissions led to a variety of awards throughout 2001 from environmental groups like the Sierra Club and engineering groups like the Society of Automotive Engineers. Thus began a revolution in hybrid car technology that has continued to grow at Toyota of Dallas in TX.
At Toyota of Dallas, the Toyota Prius 2011 is the best choice for an affordable mid-size car. With a starting MSRP of 21,650, the Prius is an economical decision that is easy for any family to make. With a 50+ miles per gallon gas rating, the savings increase every time you drive your Prius from Toyota of Dallas. With five incredible Trim Levels, an improved gas engine, and a more powerful electric motor for greater power and fuel savings, the Toyota Prius deals simply get better and better.
All of the Trim Levels for the 2011 Toyota Prius at your Dallas Toyota Prius dealer feature a 1.8 liter four-cylinder engine paired with two electric motors that utilize CVT technology to achieve 134 horsepower. The Prius has an 11.9 gallon gas tank, stainless steel exhaust, front-wheel drive, and ABS and driveline traction control. The 2010 Toyota Prius includes electronic stability control, a front and rear anti-roll bar, rack and pinion steering, as well as gas pressurized front and rear shocks.
The Prius I and II Trim Levels come standard with an adjustable telescoping steering wheel, 15-inch wheels, full power accessories, and XM Satellite Radio capability. A cloth interior comes standard in the Prius I, but leather options are also available at Toyota of Dallas. The Prius II features everything that the Prius I offers, but adds heated side mirrors, a six-speaker stereo system, keyless entry, and automatic headlights.
The Prius III, IV, and V include an increase in the comfort and convenience elements included in the Prius I and II, but add an express open sunroof, roll up cargo cover, premium JBL stereo system, Bluetooth capability, and an available navigation system. The Prius IV offers heated leather seats, an auto-dimming mirror, and driver-seat lumber support. The top-of-the-line Prius V at Toyota of Dallas in Dallas appears with all of the amenities of I through IV, but comes equipped with 17-inch alloy wheels, and LED lights and fog lamps that automatically level as you drive.
For years, Toyota has been a leader in safety. All of our 2011 vehicles received four or five stars in front and side impact collisions in government crash tests, and we are dedicated to keeping our strong track record of safety intact for all of our 2011 models as well. The Toyota recall has reaffirmed our commitment to improving R&D activities to produce vehicles that will perform at the highest level of safety and ensure comfortable driving under various conditions. Toyota will continue to deliver the safest and best quality cars, trucks, and SUVs on the road today.
Toyota Prius safety is priority number one at Toyota of Dallas in TX. All of our Prius models include: four-wheel anti-lock brakes, driver and passenger front airbags, seat mounted driver side impact airbags, 1st and 2nd row overhead curtain airbags, side impact beams, front seat belt pretensioners, and a center-mounted rear stop light.
Whether you are looking for a certified pre-owned Prius or just a great Toyota Prius deal in Dallas, look no further than Toyota of Dallas. Our selection of new and used Toyota Prius cars makes choosing the right vehicle easy and hassle-free. For Prius price information or Prius incentives, call or stop by Toyota of Dallas, and start driving your Prius today.
Here are the reasons why the Toyota Prius is good enough to be your chosen hybrid sedan in magnificent TX
Toyota of Dallas offers the Toyota Prius a 4-door Sedan which seats 5 people satisfactorily. The Prius weighs 3042 pounds, is 175.6 inches long, 68.7 inches wide, 58.7 inches high, and the Toyota Prius's turning radius is 36.0 feet. exceedingly ample for its class, the Prius has 38.6 inches of headroom in the front, and 41.7 inches of legroom up front. In the Prius's back seat, there are 37.6 inches of headroom and 36.0 inches of legroom. Need to bring a lot of luggage? The Prius trunk holds up to 21.6 cubic feet of your stuff. So, spread out and indulge!
Standard Toyota safety features included in the Prius are traction control, anti-lock brakes, side airbags, driver airbags, side-impact bars, seat-belt pre-tensioners, passenger airbags. With all these features, the Toyota Prius is always rated remarkably by the IIHS and NHTSA.
The Prius also has a raft of comfort and convenience features, including power steering, remote locks, power windows, power mirrors, climate control, cruise control, air conditioning, power seats, adjustable steering wheel, and more! Especially nice are available hands-free phone and navigation. Test drive the Toyota Prius in Dallas at Toyota of Dallas.
Like all Toyota cars & trucks, road handling and performance are top priorities for the Prius. Passing horsepower in the base Prius is 98 hp @ 5200 rpm, and producing excellent torque 105 ft lb @ 5200 rpm foot pounds/rpm, the Prius accelerates quickly from 0 to 60 mph in just 10.1 seconds. If you want to go that fast, the Prius has a top speed of 112 miles per hour. Despite this excellent power train output, the Toyota Prius's fuel economy is rated at 48 miles per gallon in the city and 51 highway miles per gallon. With a fuel tank capacity of 11.9 gallons, the Prius cruising range is well above average. Truly a performance car!
The Toyota manufacturer's warranty covers the Prius for manufacturing defects and has these specifications 3 years / 36,000 miles. Toyota has worked for years to minimize enviromental impact, and the Prius's carbon footprint is rated very low. Not surprisingly, with all these Prius advantages, this great Toyota Sedan retains a high percentage of its value at 3 years and 36,000 miles, which makes the Toyota Prius a great used buy!
When seeking safe, economical, sporty and stylish Sedan, Dallas shoppers should head to the Toyota dealer of choice, Toyota of Dallas at 2610 Forest Ln in Dallas [Dealership State].
Toyota Prius service information for Dallas
Toyota Prius owners and lessees in Dallas have found that Toyota of Dallas on 2610 Forest Ln in Dallas is the very best choice for Prius warranty work, regular maintenance & inspections, and mechanical repairs. At Toyota of Dallas, Certified Toyota Technicians, trained in the very latest diagnostic and corrective techniques, work for one thing only - your complete satisfaction. Whether it's time for your Toyota to have an oil change, or tire rotation, or if you need a regular Prius Scheduled Maintenance, Toyota of Dallas is your first choice. Wheel alignments are another specialty of our Certified Toyota Techs, and, here on 2610 Forest Ln, we are the smartest choice in Dallas, for quick courteous and professional Toyota Service of all kinds.
If you'd like to
make an appointment to have your Prius serviced, click the link
or just give us a call. See you soon.