Toyota of Dallas is moved to be the leading site for the Toyota Highlander in TX. Toyota of Dallas is an Dallas Toyota dealership and carries a huge inventory of New Toyota Highlander and top quality and high value Used Toyota Highlander and other cars & trucks.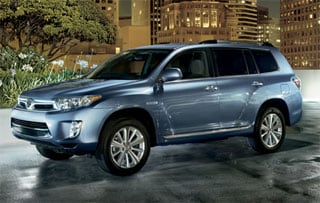 When shoppers compare the Toyota Highlander to other makes like the Buick Enclave, Chevrolet Traverse, Ford Flex and Nissan Murano , the 2012 Toyota Highlander shines as the most fun-to-drive. Starting with the 2012 Toyota Highlander, owners found this affordable SUV 's crisp handling and lively acceleration to be reason enough to choose.
You'll love the Toyota Highlander, affordable midsize suv, when you shop Toyota of Dallas in Dallas
Toyota has significantly revised its popular Highlander and Highlander Hybrid crossover sport utility vehicles for 2012, giving it enhanced styling, additional standard amenities and new user technology. The Toyota Highlander remains a popular affordable midsize SUV in its class. The Buick Enclave, Chevrolet Traverse, Ford Flex and Nissan Murano have to deal with the Highlander that continues to build on its strength of delivering one of the most capable, smooth and quiet rides in its segment. The second-generation Highlander departs from a traditional SUV styling using new clean, sculpted lines, a wide, stable stance and muscular contours. This gives the Highlander a contemporary, dynamic presence on the TX road.
Toyota of Dallas is excited about Highlander's sophisticated design update for 2012 featuring a new front fascia, hood and fenders for all models. The Highlander Hybrid new exterior features include color-keyed rockers with chrome accents to give it individuality in the lineup. The Limited still looks the part of luxury with a rear spoiler, chrome door handles and roof rails setting each 2012 Highlander model apart.
Standard features on all 2012 Toyota Highlander models include front and rear air conditioning, cruise control, illuminated entry system, scheduled maintenance indicator light, daytime running lamps and more. Third row seating is standard on all Highlander models, along with seven airbags. The Highlander SE and Limited models feature a standard backup camera with a 3.5-inch multi-information display and a power liftgate that can be opened and closed with a key fob. The new Tech Audio found in the SE and Limited features a USB port, integrated XM Satellite Radio and Bluetooth, helping ensure a wide array of connected capabilities for Highlander passengers. The Highlander Hybrid Base gains standard easy-clean fabric seating, along with an eight-way power driver's seat, the Tech Audio, 3rd-row seating and manual rear climate control. The Highlander Hybrid Limited gains standard automatic climate control for the rear and offers new perforated leather. A variety of available options and accessories for the 2012 Toyota Highlander include a voice-activated touch screen navigation system with an eight-inch screen, JBL premium audio, leather seat trim with heated front seats, and a power moonroof. For a new Highlander, or a used Highlander, Toyota of Dallas is your only choice!
The 2.7-liter engine in the Highlander produces 187 hp and 186 lb/ft of torque. This four-cylinder engine is teamed exclusively with a standard six-speed electronically controlled Highlander automatic transmission. This four-cylinder engine offering gets the Highlander gas mileage to a mere 25 MPG on the highway. The available 3.5-liter V6 which is standard on the Highlander Limited produces 270 hp and 248 lb/ft of torque. A five-speed electronically controlled Highlander automatic transmission offers selectable manual sequential shifting in this motor. The 3.5-liter V6 allows the Highlander to reach 24 mpg of highway driving. The favorite mileage numbers come from the Highlander Hybrid; it gets 28 MPG for both city and highway driving numbers. It uses Hybrid Synergy Drive which features a new, more powerful 3.5-liter V6 for 2012, replacing the 2012 Toyota Highlander Hybrid's 3.3-liter V6. The system pairs the gasoline V6 engine with a high-torque electric drive motor-generator for total system output of 280 hp with the best possible fuel economy. This Makes the Toyota Highlander an affordable midsize SUV in Dallas.
Here's the reasons why the Toyota Highlander has earned the right to be your treasured affordable midsize suv in lovely TX
Toyota of Dallas offers the Toyota Highlander a 4-door SUV which seats 7 people suitably. The Highlander weighs 4,045 pounds, is 188.4 inches long, 75.2 inches wide, 68.1 inches high, and the Toyota Highlander's turning radius is 19.4 feet. astonishingly roomy for its class, the Highlander has 40.6 inches of headroom in the front, and 43.2 inches of legroom up front. In the Highlander's back seat, there are 40.1 inches of headroom and 38.3 inches of legroom. Need to bring a lot of luggage? The Highlander trunk holds up to 10.3 cubic feet of your stuff. So, take a breather and have fun!
Standard Toyota safety features included in the Highlander are traction control, anti-lock brakes, side airbags, driver airbags, side-impact bars, seat-belt pre-tensioners, passenger airbags. With all these features, the Toyota Highlander is always rated extraordinarily by the IIHS and NHTSA.
The Highlander also has a raft of comfort and convenience features, including power steering, remote locks, power windows, power mirrors, climate control, cruise control, air conditioning, power seats, adjustable steering wheel, and more! Especially nice are available hands-free phone and navigation. Test drive the Toyota Highlander in Dallas at Toyota of Dallas.
Like all Toyota cars & trucks, road handling and performance are top priorities for the Highlander. Passing horsepower in the base Highlander is 187 hp @ 5800 rpm, and producing excellent torque 186 lb.ft. @ 4100 rpm foot pounds/rpm, the Highlander accelerates rapidly from 0 to 60 mph in just 6.4 seconds. If you want to go that fast, the Highlander has a top speed of miles per hour. Despite this excellent power train output, the Toyota Highlander's fuel economy is rated at 18 miles per gallon in the city and 24 highway miles per gallon. With a fuel tank capacity of 19.2 gallons, the Highlander cruising range is well above average. Truly a performance car!
The Toyota manufacturer's warranty covers the Highlander for manufacturing defects and has these specifications 3 Years / 36,000 miles. Toyota has worked for years to minimize enviromental impact, and the Highlander's carbon footprint is rated very low. Not surprisingly, with all these Highlander advantages, this great Toyota SUV retains a high percentage of its value at 3 years and 36,000 miles, which makes the Toyota Highlander a great used buy!
When seeking safe, economical, sporty and stylish SUV , Dallas shoppers should head to the Toyota dealer of choice, Toyota of Dallas at 2610 Forest Ln in Dallas TX.
Toyota Highlander service information for Dallas
Toyota Highlander owners and lessees in Dallas have found that Toyota of Dallas on 2610 Forest Ln in Dallas is the very best choice for Highlander warranty work, regular maintenance & inspections, and mechanical repairs. At Toyota of Dallas, Certified Toyota Technicians, trained in the very latest diagnostic and corrective techniques, work for one thing only - your complete satisfaction. Whether it's time for your Toyota to have an oil change, or tire rotation, or if you need a regular Highlander Scheduled Maintenance, Toyota of Dallas is your first choice. Wheel alignments are another specialty of our Certified Toyota Techs, and, here on 2610 Forest Ln, we are the smartest choice in Dallas, for quick courteous and professional Toyota Service of all kinds.
If you'd like to make an appointment to have your Highlander serviced, click the link or just give us a call. See you soon.