Has it been awhile since you received tire maintenance in Dallas? If so, you may find yourself in need of a new set of Toyota tires. Neglecting recommended maintenance intervals noted in your owner's manual could lead to premature tire wear, or even worse, tire failure. To avoid these potential issues, we encourage all Toyota owners to bring in their vehicle to receive annual tire rotation and wheel alignment in Dallas. These services help prevent uneven tread wear and performance issues, prolonging the life of your tires.
Schedule an appointment with one of our Toyota-certified service technicians today to undergo tire maintenance on your car, truck or SUV.
Signs You May Need New Tires in Dallas
Taking your car in for annual routine tire maintenance isn't the only way to protect your tires. You should also perform regular at-home inspections to keep an eye out for possible problems. Here are the top potential issues you should look out for:
Tire Pressure - If you notice a constant decrease in tire pressure even after you inflate your tires, it may be time for tire replacement. You must also check to see if your tires are inflated to the proper PSI, as this can effect performance.
Tread Wear - Utilize the penny test to determine if your tread wear is shallow. Place a penny in your tread with Lincoln's head pointing down. If you can still see the top of his head, your tread is too low and you need new tires.
Damage - Look out for rocks, nails, bulges or cracks in your tires. Each of these can lead to air leaks and tire failure. If you spot any of these issues, bring your car to our service center as soon as possible.
Vibration - Does your car or steering wheel create vibration? This could be a sign your tires need to be serviced. In extreme cases, you may need new Toyota tires.
Toyota Tires for Sale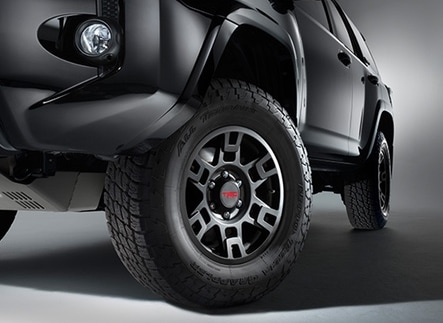 In addition to providing wheel alignments and tire rotation in Dallas, we have a wide assortment of Toyota tires for sale at our dealership. Don't waste your time with discount tire shops selling cheap tires, visit us for professional assistance. Our team is trained to help you find the right tires for your Toyota model. From Michelin tires and Bridgestone tires to Goodyear tires and Pirelli tires, we have it all.
Stop by Toyota of Dallas today and we'll assist you with all of your tire needs!