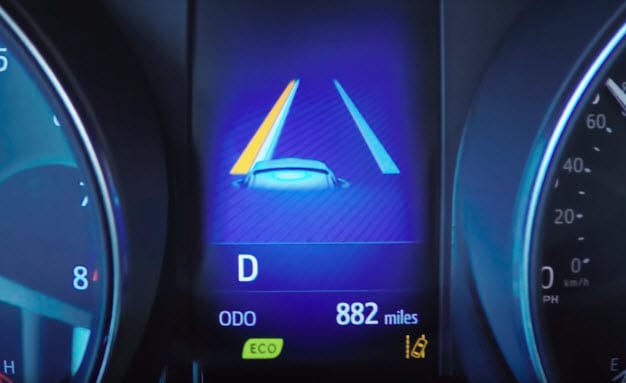 Lane Departure Alert is a safety feature inside of the safety suite offered by Toyota. When you want to make sure you're being as safe as you can be on the road, this is a great feature to have.
Lane Departure Alert and Toyota Safety Sense
Lane Departure Alert (LDA) is a standard feature that's included in the Toyota Safety Sense suites. Essentially, it is capable of reading the markings on the road that identify your lane. If you cross those lines without using a turn signal, the Toyota will understand that you're veering out of your lane. You'll see a visual reminder on the screen and you'll hear an audible beep that tells you what's happening. This allows you to correct your driving so that you get back into your lane.
?
Will Toyota Vehicles Steer Automatically?
Some Toyota models will also have a steering assist function. This will allow the vehicle to correct for you so that you don't risk hitting a vehicle that is in the lane that you have accidentally veered into.
A button on the steering wheel will allow you to engage and disengage LDA based on your preferences. A window will show up on the multi-information screen to show you whether it's on or off. From there, you can drive down the highway with more confidence knowing that safety features are there to help you when needed.
Contact Us Today for More Information
Stop into Toyota of Dallas today to see the lane departure alert system inside of a new model today. We'll take you for a test drive and show you how a new Toyota can provide you with a wide array of safety features.