Saturday DITY Special!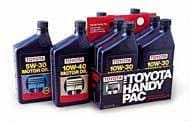 Oil Change Special just $15.99!

Saturday Special for
D
o
IT
Y
ourselfers!
Every Saturday from 7AM-9AM you can get a complete oil change kit containing 5 quarts of Genuine Toyota Motor Oil, 1 Toyota oil filter and 1 drain plug gasket for just $15.99!
Motor Oil
To maintain the quality of your Toyota, use the motor oil that is formulated specifically for your vehicle - Genuine Toyota Motor Oil. Genuine Toyota Motor Oil is a special combination of lube base stocks and a special additive package that provides your engine with optimum performance. The benefits of using Genuine Toyota Motor Oil are:
Available in 5W-30, 10W-30 and 10W-40 grades.
Formulated to help protect Toyota metal and gasket surfaces from corrosion with a film of oil.
Four-point depressants maintain fluidity in cold climate conditions.
Viscosity index improvers stabilize viscosity levels over a range of operating temperatures.
Defoamants maintain proper application of oil on cylinder walls.
Oxidation inhibitors resist creation of oxidants which increase viscosity levels and decrease fluidity.
All grades meet API standard specifications.
Oil Filters
Oil filters help protect your engine by trapping dirt and other contaminants while allowing the oil to flow to the engine. Genuine Toyota Oil Filters are designed specifically for your Toyota engine. Features of the Genuine Toyota Oil Filters include:
A bypass valve, which alleviates restricted oil flow in the event of a clogged filter.
An anti-drainback valve, which prevents oil from draining out of the engine and into the oil pan, helping to protect your engine from increased wear during cold starts.
A filter element which effectively filters contaminants and maintains the engine's lubrication capability during the maintenance interval. By comparison, a lesser quality filter element might clog during Toyota's recommended maintenance interval leading to engine wear, seizure or other problems. Some non-genuine oil filters do not meet all of Toyota's stringent specifications.
Toyota recommends changing your oil filter and motor oil every 5,000 miles or 6 months
When it's Time for an Oil Change, always ask for a Genuine Toyota Oil Filter.
Synthetic Oil extra, filters for current Toyota models only, no special orders, no rain checks. Coupon not valid with any other offer. Must present coupon at time of purchase. Limit one coupon per person. Coupon does not apply to prior purchases. Other Restrictions may apply. Void where prohibited.
Hours
Monday

7:00am to 7:00pm

Tuesday

7:00am to 7:00pm

Wednesday

7:00am to 7:00pm

Thursday

7:00am to 7:00pm

Friday

7:00am to 7:00pm

Saturday

7:00am to 5:00pm

Sunday

Closed