2011 Toyota Sequoia Driving Impressions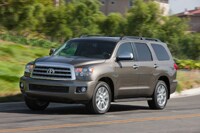 We found the Sequoia comfortable for a 1,000-mile day. Driving the Toyota Sequoia is like sitting in your den, watching the world go by. It may be big, but it's not tiring to operate as the day goes on. It's the kind of vehicle that an American family would enjoy for a long, long day on the interstate. It's got long legs and an effortless cruising pace. There is low noise and vibration, so you can listen to the audio system or converse at a normal tone of voice. It rates 18-19 mpg on the open road, conceivably offering 500 miles between fill-ups at moderate speeds and loads. No doubt about it, the Sequoia is at home on the biggest of North American roads.
In everyday driving, the suspension is surprisingly compliant for a vehicle built to carry heavy loads. There is a minimum of tummy jiggle on broken surfaces, and yet, when hard braking is called for, the front end does not dive wildly or pitch about. The Platinum version has the active air suspension, which has the ability to maintain more even ride height with heavy loads, which we tested and found it works well. In reality there isn't much difference between the suspensions and you'll want a weight-distributing hitch for all but light trailers. The standard setup is an independent A-arm configuration at all four corners, with coil springs and antisway bars.
The 5.7-liter V8 has lots of power, with an impressive reserve of torque. We loafed along at 2000 rpm or less all day long without feeling the need to punch the throttle. The 5.7-liter makes most of its torque below 3600 rpm, so when you do decide to pass, acceleration is impressive. Like the 4.6 it features four valves per cylinder and variable valve timing on both intake and exhaust camshafts, and a low-friction valve train enhances efficiency.
The 4.6-liter V8 is not as strong as the 5.7-liter engine, but if you use the 5.7's extra 71 horsepower and 74 lb-ft of torque (which the EPA doesn't) you will use more fuel. And the 4.6 sounds and feels like it's the quieter, smoother choice.
The 6-speed electronically controlled automatic transmission accounts for part of the Sequoia's decent highway mileage. The transmission is controlled by a shifter that allows manual shifting, and has a lock-up torque converter for better towing efficiency and heat control. There is a Tow/Haul mode that changes the shift points for heavy loads and gives less hunting or shifting between gears on climbs and better speed control on descents.
Four-wheel-drive models come with a two-speed transfer case with 2.6:1 low-range gearing. We found low range easy to get in and out of, even on ground that was not perfectly level. And the gearing seemed low enough that the Sequoia could crawl at speeds slow enough to slog up very steep terrain. When and if a Sequoia gets stuck, it'll likely be lack of tire traction or space for the bodywork, not for a lack of power or gearing.
The Sequoia with 5.7-liter can tow up to 7400 pounds but the 4.6 will do just 500 less, so if you're pulling a bass boat across the plains or through rolling landscape the 5.7-liter engine isn't necessary. A seven-pin connector and a standard four-pin connector are set up and ready to use, and there is a pre-wired brake controller connector under the dash, similar to the Tundra. The Max Gross Combined Weight Rating, the total permissible weight of vehicle, trailer, occupants, cargo and fuels is 12,500-16,000 pounds, depending on engine and equipment, so any Sequoia can pull close to its maximum even loaded.
The limiting factor towing could easily be tongue weight, and the SR5 5.7 allows the highest at 1000 pounds (960 4WD). Although the Platinum has air suspension in back to level things it's the heaviest model and maximum tongue weight is 910 pounds (880 4WD). Based on that and the 18-inch wheels we'd suggest the SR5 5.7 as the best Sequoia for heavier towing.
The brakes are consistent with full-size pickup capability as they should be; the lightest Sequoia weighs more than the heaviest Tundra, and a top-line 4WD Sequoia is more than three tons. Large disc brakes are mounted on all four corners. The brakes feel reasonably gradual, with very strong response as foot pressure is increased.
Like some other luxo-utes the Sequoia offers active speed control (Dynamic Laser in Toyota-speak). Such systems "watch" the road ahead and adjust your speed on cruise control to maintain a safe following distance, and while marketed as driver-assist like other such systems they are no substitute for paying attention; there is only so much they can do if side-traffic runs a stop or light, or oncoming traffic drifts out of lane.
In daily use around town, the Sequoia will seem big to those not accustomed to maneuvering full-size domestic iron. It is however, reasonably maneuverable and needs only 4-5 feet more pavement to make a U-turn than the average sedan. We notice that, like any full-size, the hood is long and tall, and the distance to the rear bumper is not easily estimated without practice. Parking sensors front and rear go a long way toward making the best of the need to fit a big SUV into an average parking space by providing audible warnings when maneuvering in close quarters.
The rearview camera that displays a video image of what's behind you on the navigation screen (or a smaller image on the mirror) is even better. We highly recommend getting this optional feature for its safety benefits. A rearview camera, in addition to the audible warnings, can help alert the driver to a child behind the vehicle or, more commonly, unseen objects you don't want to hit. It also makes the parking process easier and speedier. The camera also helps greatly when hitching a trailer, eliminating the need for trial and error or a spotter.
Steering is fingertip-easy around town. It avoids being boat-like by a variable system that adds more return-to-center and a firmer, more precise level of control as speeds increase. At higher speeds, we found the Sequoia easy to keep in its lane without undue attention. While this family SUV is not built to be a cornering machine on country roads, control is good enough for confident handling; the electronic stability control will intervene if you try anything enthusiastic.
On a vehicle this big, power windows and doors are more than just luxury options; they become necessities. It's an impossible reach across the cabin, and a long walk to open the tailgate in the rain. The power rear hatch can be opened using the remote fob, handy when approaching the vehicle in a downpour with a load of groceries, but watch overhead clearance in garages.