An electronic parking brake is included in the construction of all Toyota vehicles these days. This mechanism is usually a lever that has been installed on the interior of the vehicle. It can be engaged when the need is present. Advanced technology has allowed for the traditional level parking brake to advance to something that is much more subtle and simple. Parking on a steep incline is just one situation where an electronic parking brake will protect your vehicle and keep people nearby safe. here are a number of instances where you might be inclined to use your parking brake. Let's take a look at the specifics of a Toyota electronic parking brake.
How Does a Parking Brake Work?
A parking brake original design was meant to function in the scenario of the main braking system failing. More modern Toyota vehicles use the electronic parking brake for different uses. In essence, the parking brake isn't going to provide enough force to slow down your vehicle in the event of an emergency. Your parking brake is only hooked up to your rear brakes. The front brakes are what provide more stopping power. Your electronic parking brake is designed to keep your vehicle in place. The wheels lock up so they cannot begin to move on their own. Your vehicle can still stop and remain stopped without this feature turned on. It is simply another form of safety and protection.
How to Use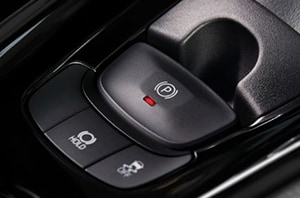 The new electronic parking brake system uses a button instead of a pedal or lever. You simply pull the button up and you will be notified that the system is in use. When you press down the button again the brake will disengage. Automatic modes can be set up for a number of Toyota vehicles. Electronic parking brakes come with brake hold. This is an automatic feature that will keep your vehicle's brakes engaged for you until you place your foot on the accelerator pedal again. If you are waiting in traffic or at a light, this system is a convenient way to keep you from having to press down your brake pedal all the time. Various indicators in your vehicle will let you know when your brake hold is in the process of working. This feature does not work if your vehicle is in reverse.
While it might sound complicated, the Toyota electronic braking system is a pretty simple tool that helps aid in safety and convenience. If you are interested in looking at some of the Toyota vehicles that we have on our lot right now that feature electronic parking brakes, stop down to Toyota of Dallas today. We'll walk you through our inventory of vehicles, and we will help you find the vehicle that is perfect for your budget and lifestyle. Taking a vehicle out for a test drive will allow you to test out the new electronic braking systems that are being included in vehicles today. If you have been driving an older vehicle for some time now, you might not have experienced these new electronic versions.